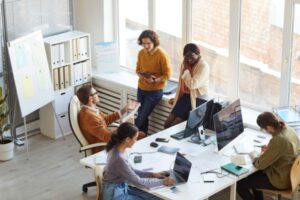 Having established your eCommerce site, you're now ready to light the afterburners and power ahead to rapid growth. What should you use for fuel?
There are many things you could do. This is why we always recommend starting with a diagnosis to see which areas of your eCommerce site are in good health and which ones need a bit of care and attention.
While every case is different, these are the five most common areas where we recommend making improvements. This is all part of building a more effective eCommerce business, which also involves things that happen away from your website.
Improve Your SEO
Most of us start our product searches on Google. If your product and general pages perform well in relevant searches, you'll have an enduring benefit from your investment. In short, you'll have to buy less advertising to put your products under the noses of potential buyers.
Effective SEO for eCommerce can be highly nuanced. The out-of-the-box SEO plug-in you have probably won't do everything you need. The process starts with methodical keyword research and includes the strategic deployment of relevant keywords in your product headline, description, meta description, image alternative attributes, and subheadings.
But it doesn't always mean targeting the most popular search terms. Sometimes less popular 'long tail' keywords can be a better match for somebody who genuinely wants to buy something.
These days Google is smart enough to realise that different words have similar meanings. So, sprinkle some common synonyms into your content to take advantage of Latent Semantic Indexing (LSI). This helps add context so Google can better understand what your content is about.
Simplifying your site structure will also help Google (as well as your users).
Images and copy
Better photography will make your site look professional and trustworthy. It also helps when people can see exactly what they're buying. When it comes to copy, smaller eCommerce businesses often have a big advantage – you know your customers. So, write your product descriptions based on that knowledge.
Talk your customers' language, answer their questions and emphasise the features they find most appealing.
Navigation and Checkout
When we start working with a company to improve eCommerce performance site navigation can be a bit of a labyrinth. Probably because the business has progressively added products and categories without rethinking the overall structure.
Let customers find what they want with a couple of clicks and not have to think about it too much.
Checkouts too, are often needlessly complicated. Don't ask your customers to do more work than they need to.
Conversion Rate Optimisation (CRO)
CRO may sound fancy but essentially it's just understanding how people use your site, seeing where they get stuck and clearing away as many obstacles to a sales conversion as possible.
Techniques include detailed analysis of Analytics data, user testing and session recording. This helps identify options for improvements that you can test to see if they boost conversions.
Multi-channel Marketing
As we said at the start, part of building a successful eCommerce business involves things that happen away from your site. Complement and drive traffic to your site by using multiple channels such as Google and Amazon Shopping. And harness social media and email marketing to drive up sales even more.
If you want more insights into building a more prosperous eCommerce business, download our guide in our resource centre, or contact us.