For many small and simple online businesses, the standard capabilities of common eCommerce platforms deliver most of what you need to succeed.
But what if there's additional business complexity? This could include a highly bespoke manufacturing operation, or where there's a huge range of products with very specific end-use specifications.
Maybe you can't do much about your product complexity. It might even be one of your strengths. But you can do plenty about how much of that complexity a customer has to deal with.
Put complexity where it belongs – in the background. Your customers should only ever experience simplicity: product selection, ordering and checkout that require next to no effort or thought. To make that possible you have to move beyond the standard capabilities of eCommerce platforms.
Magento and WooCommerce are highly capable. They offer businesses a great deal of control and flexibility. But if your product offer is more complex these tools need to be adapted, enhanced and fine-tuned to perform for your customers and your business.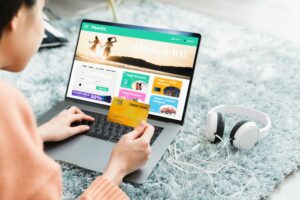 If there's a Golden Rule of eCommerce it's this: any compromises over site performance or customer convenience will bite back hard and take a chunk out of potential sales. More succinctly: simplicity sells. 
What eCommerce Customers Want
What customers want from your eCommerce site is simple. They want to quickly find and order exactly the right product, which could be based on a technical specification, colour, size, appearance or some other preference.
To make that possible you need a lot of thought up-front – about how you organise data and design the interface and navigation.
The more complex the choice, the more work your solution has to do in the background. High performance eCommerce sites always present the simplest and smallest possible number of options and decisions. The hard work you and your eCommerce partner put in ahead of time ensures that data, design and customer intent work in harmony
Handling product complexity and customer choice should never come at the expense of site response times or simplicity for your customers. This comes down to finding the optimum technical architecture and design solution.
When you build a solution that tames product complexity, you also gain the freedom to run specific campaigns as often as you need with minimal effort.
Match your eCommerce capabilities to business complexity and life becomes easier for customers and for your marketing team. We can't think of a better formula than that for growing online sales.
For more insights into building a prosperous eCommerce business, download this handy guide or contact GSL Media on 01752 395600.